So a while back... a looong while back... lol I featured a little Etsy shop named '
Pookledo
'. This time around, I get to feature her new Brick & Mortar crafty (consignment) shop in Loughborough UK, called '
The Purple Pumpkin Patch
'.
If you're ever in the area, drop in and see what she has in :) I love seeing her post about the items brought into her. so far I've seen everything from beautiful knit and crochet work, homemade jams and jellies, adorable ceramic/clay/porcelain critters, homemade soaps and candles... actually, I think I've seen a bit of everything!
And guys.. she hosts classes and such, too! I wish I lived close enough to attend her 'Knit & Natter' get togethers... I doubt my ability to learn to knit without a ready helper nearby to keep me on the right track, so this sort of thing would be the only way I'd be able to do it :)
Now, all of those glimpses inside her shop are from scattered times over the past year, but considering it IS the Christmas shopping season, I think I should show off some of the 'seasonal items' , too, right?
The gingerbread man wreath is just classic Christmas without being overdone, and those lace roses... wow that must have taken forever to put together ! I'm not one for glitz or flowers, so if I had to chose between these three in person, I'd go with the gingerbread man for my door ;) There are tons more in her shop, in a variety of looks, and the old fashioned looking lacy ones are SO PRETTY! Like this one -
And SO much more! You should pop over to her page and browse through some of the goodies :)
For those who are NOT in her area, don't despair, she still has the etsy shop where she has her jewelry, including her AWESOME Christmas Earring Advent Calendars
and if you see something in the PPP shop that you MUST have, message her about it and maybe the two of you can work things out with the shipping... you never know ;)
AND, for a reward for visiting her shop & page, she's offered up a little prize :) this set of 3 pairs of Christmas earrings :) The center pair are Swarovski crystal :)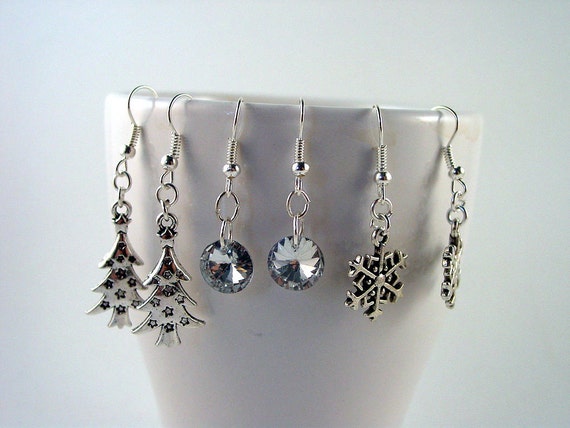 And, since this is ME and you all know on my blog I make you 'work' for your ballots ;) Pop over and visit her shops, either/both
The Purple Pumpkin Patch
and /or
Pookledo
, ( and check it off in the entry form ), and tell me in the comments about your 3 favorite items :)
The winner will be selected by Random.org, and notified by email ( if they've provided it) or in a blog post (if they didn't provide an email) and will have 24hrs to respond. If they don't, a new winner will be chosen in their place.
a Rafflecopter giveaway