Well, March was a bit of a rough month for a number of us in the beading & jewelry world apparently, so I least know I'm not alone. Between various small bugs that left me feeling blah and tired over the first part, and assorted problems that kept getting in the way of me completing my challenges, then this past week with acute bronchitis and now an infection in my eye.. it's been a rather non-productive month. I don't think there'll be a Challenge Check In post again this week for my art project... considering, I haven't done one >.< lol Hopefully April will be a better month since my 'todo' pile is getting a bit high over here *eyes the stack of bead covered trays, and pile of notes * ... oh yeah.. note to self.. CLEAN THE DARN WORK AREA! lol
so what am I doing instead of the stuff I should be doing? A bit of reading... a bit of writing... a lot of sleeping. right now I'm listening to a song from a youtube vid. It's an acapela Starwars medly done by one guy singing all the parts...It's fabulous. you should go take a listen lol It's totally stuck in my head..
.... Kiss a Wookie... ...Kick a driod..
..fly the Falcon.... through an Asteroid..
..'til the Princess ......is annoyed!
heheh .. it's really a cute song and it's incredibly well done... he even sounds like Luke when he whines ;) lol
If you're bored , check it out :) you won't be sorry :D
Alrighty.. so, you all want to know about the swarm of butterflies and who gets to play with them :)
Unfortunately, not a single person left a comment saying who told them about the giveaway, so no one won the extra little package of butterflies :(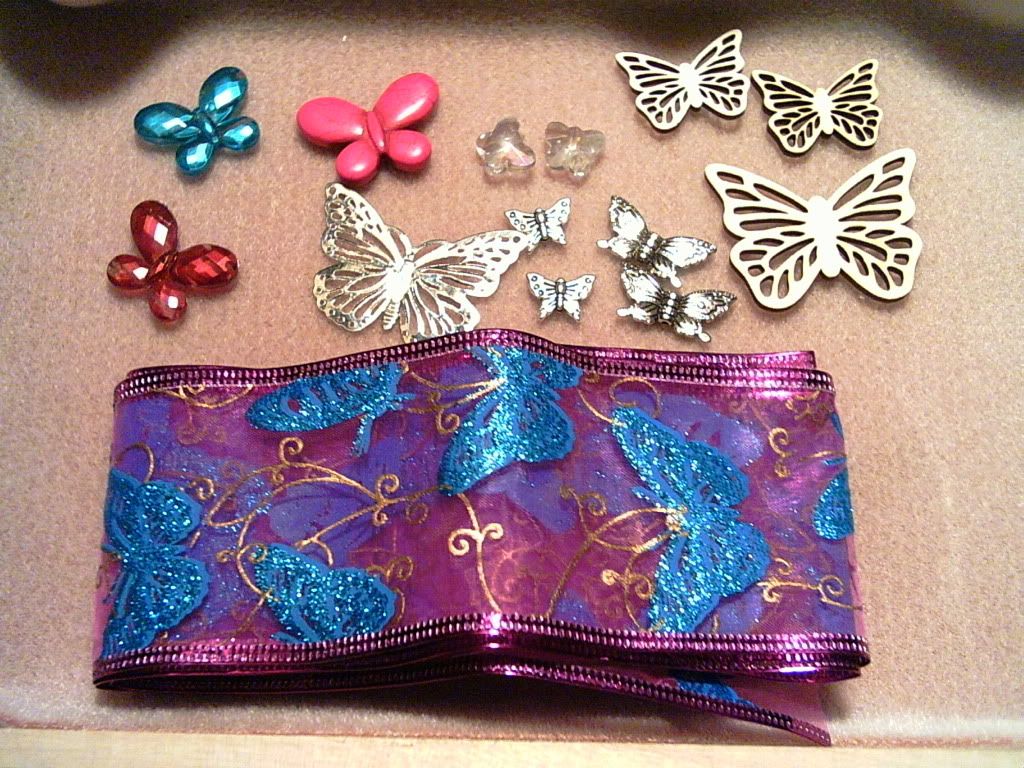 Butterfly Swarm giveaway bundle
Congrats Lisa! You've got two weeks to contact me with your address. If I don't hear from you by midnight on April 10th ( EST) I'll pick a new winner on the 11th!
Since the butterflies went over so well, and I do still have an assortment of butterflies left, I might just have to do a little extra butterfly giveaway later on :) Maybe in conjunction with the Flap Your Wings blog hop? Yeah... that sounds good... So even if I don't get my piece done, I'll still host the little giveaway and list all the blog participating... I'm hoping I'll be up to making my piece for the hop, and perhaps auction if it turns out well enough.
Alrighty... so, some of you already know the 'theme' of the next giveaway ... flowers :) Want a teaser pic of what you'll have a chance at winning starting Friday?
Spring Blooms giveaway bundle teaser
not just flowers.. but some fun spring colors as well. I do have more flowers, so I might be adding more to this pot... hmm... this round I had over fifty entries.. so how about for every ten entries, I'll make another addition of beads to the pot? Sound tempting enough? And if I get any comments saying they were sent here by so&so, or they found this blog through so&so... I'll add in a little 'most referral' prize as well :)
Once again, congrats to Lisa L. the rest of you, be sure to pop in on Friday to see the new goodies up for grabs for April's giveaway ... and yes I know Friday isn't yet April... it just means you get a couple extra days to enter :)Plus check back on April 14th for the Flap Your Wings blog hop to check out my entry as well as another shot and winning some butterflies... and other winged items ;)