Hello :)

As I mentioned in my last post, my challenges have been busted due to illness. I did complete one pair of earrings but... not gonna bother sharing a pic of them today :)
Nope.. today I decided to share some of my favorite blogs to read.

First up we have Anvil Artifacts.
I found this blog by some random link hopping during one day of boredom. I'd got a giggle out of a comment she'd left on another blog and decided to follow her home... So glad I did :) Her blog posts are always fun, packed with photos of her own work as well as others and the last photo in line is always something ... 'interesting' .. lol
I own a pair of her earrings :) Beautiful green-patina copper pieces that are just so nice :) I won them from her ;) I couldn't find a link to a picture of them though, and I'm too lazy right now to take a pic myself to share ... so instead I'll show you a pic of my favorite pair that's still available for sale in her shop :)

The Mysterious Jewel Box by anvil artifacts - available in here










And I HAVE to share a pic of one of her diorama necklaces! I couldn't find a picture of my number one favorite...it's an underwater scene with two divers and one of them has a tentacle wrapped around his leg ;) The bigfoot one is really cute too :) These are sort of a two-in-one deal...you get a gorgeous necklace...then you flip it open.. and get this! Hmm..I wonder if you could wear it flipped open? Because that would be like having two necklaces... the fun 'open' one... and the beautiful 'closed' one :)
Day at the Beach by anvil artifacts - available here










Anyhow, here is her blog addie & Esty shop address, so be sure to visit!
~~~~~~~~~~~~~~~~
Next up we have Fanciful Devices ... this is actually the blog I followed Anvil's link from ;) And guess what? I found HER blog by following her link from
Sparrow Salvage's
blog :) ( another great blog you should visit!)
Fanci's blog is another one that's always chocked full of beautiful photos of her work and that of others. She's always left me in awe over how effortless she takes random 'things' and turns them into gorgeous jewelry! And she's now started to sell tutorials... incredibly detailed and well laid out tutorials ( one of which I'm trying to buy by paypal and etsy aren't liking each other much today... either that or neither of them are liking my card >.< )
Here is a couple of my faves from her shop. She's made so many beautiful things... and I ADORE her bangle stacks ( that's the tute I'm attempting to buy ;) ). I love the Egyptian feeling these give me...she makes no mention of an Egyptian influence or inspiration, but that's what they make me think of :)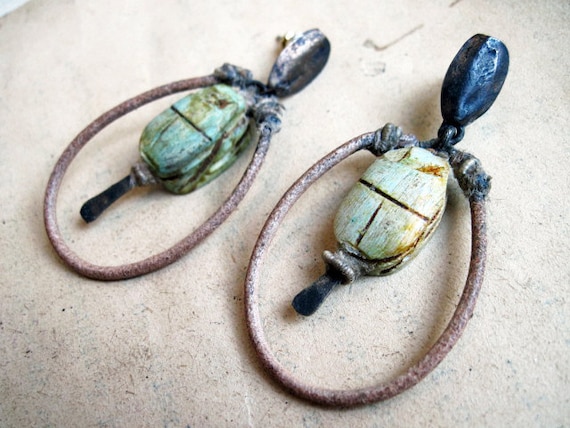 Of Bondage by fanciful devices-available here
Oddly enough... so does this necklace...it's sort of makes me think of a simplifies Ankh... or maybe it's a combination of the piece and her 'model'? lol I love that thing... she did such a fabulous job on it and it shows off her creations wonderfully :)
Much Beyond by fanciful devices - available here


Here are her addresses... make sure to go check her out :) you won't regret it!
~~~~~~~~~~~~~~~~~
While Fanciful Devices & Anvil Artifacts are pretty much strictly jewelry/components/ life happenings in their blogs, Shaiha's Ramblings offers more of a variety :)






necklace & photo by Shaiha
While Shaiha does post photos of her jewelry... such as this hand-knotted pearl necklace using AA Black Pearls and Crystals that she made for the Spring Fashionista Event ... (and since I won it, I'm anxiously haunting my mailbox ;) ) , her blog is more open to all aspects of her life. She does tons of book reviews ( thanks to which my 'find & read' list has reached rarely-seen-before lengths ) , and shares the 'beautiful things' that happened in her week to help her keep focused on the bright side :)
Shaiha does not have a shop, but you can find her blog
here
. She also has a second blog where she JUST reviews
adult
books ;) You can find the link in her profile...I'm making you visit her to find it :p lol
~~~~~
Okay ... now this is next one is not jewelry or bead related at all.
I actually found it through a giveaway link back.. and have been hooked ever since.
Boobies, Babies & a Blog
is a mother's rant and rave where she shares all the ups and downs... and embarrassments... of having children. I've sympathized with and helped reassure her through panic attack blog posts about her children's health... and laughed uproariously over her revelations concerning her teen age son and his... happenings ;) and of course, one of my favorite features are her ' Sh#T the Boss Says' posts ... the Boss is her five year old... and some of the things that he comes up with... true genius... or hilarity lol
But she doesn't JUST chat .. no... she also does the odd product review... oh, and Boobies is seriously addicted to hosting giveaways. She's done a large variety of items, from scarves, to purses, to giftcards.... to sex toys. She tends to do the sex shop giveaways most often, I think. I keep tossing my name into the hat for about three quarters of her giveaways, but as of yet, my lucky number hasn't come up.
And you're damn right I enter her sexy ones ;) Every time it's open to international! lol

Boobies,Babies & a Blog -
blog
~~
So there are a few of the blogs I enjoy reading :) I hope you pop in and visit them and perhaps get hooked as well :)
Maybe I'll share some more later on :) In the mean time, don't forget to enter the 4th Freebie Friday draw! For every TEN entries I receive I'm adding another little batch of beads and such to the pot!
~ Skye