Jessica of Whimsical Monkey had the desire to be part of an earring swap... and the urge to host her own blog hop... so here we have both in one :)
I can't show you what I received from my partner, Tania Spivey, since I haven't received them yet ;) Tania had one of those brainfart moments when she wrote down the hop date and wrote 'June' instead of 'May' ;) ( come on, I know plenty of you have done it before ;)
They're in the mail though and should arrive this week :)
I can show you what I made her, though :) When discussing styles, she said 'bohemian', no neutral colours, something that will show beneath her hair but 'not shoulder dusters'.
I went for bohemian... or I tried... I got distracted >.<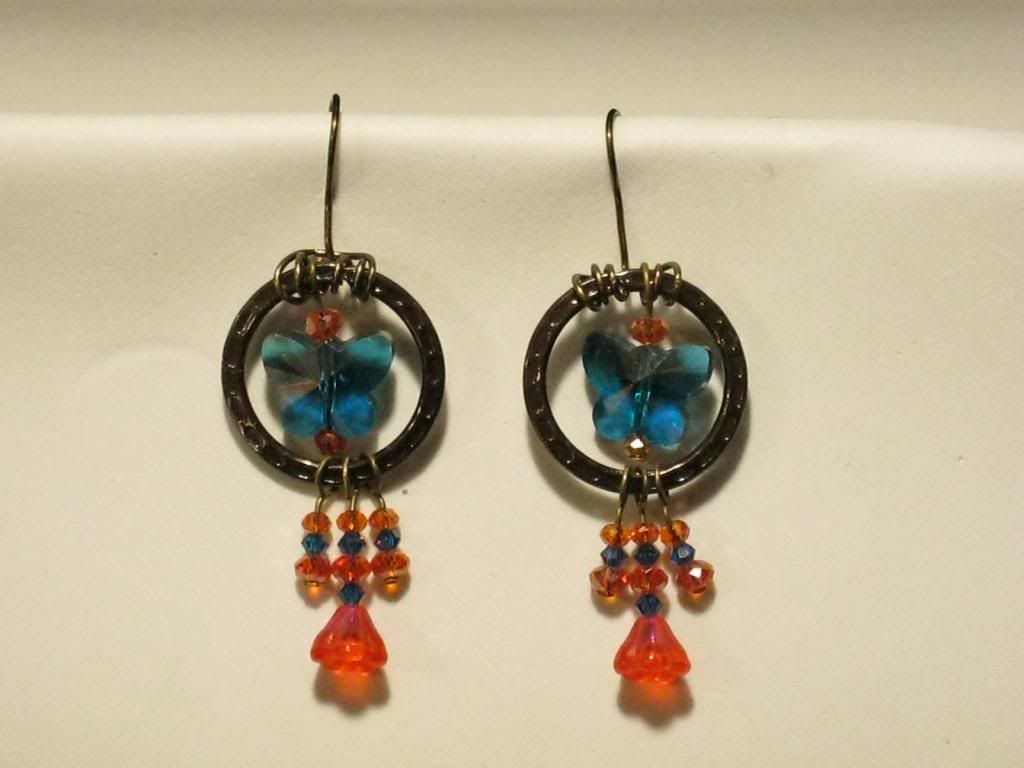 Blue and orange sparkly bits took control of the process... >.< Don't think they're in the 'bohemian' category, but they're pretty :) Hope she likes them!
Here's the hop list for the rest of the participants :)
HOSTESS: Jessica
http://whimsicalweavings.blogspot.com/2013/05/earring-swap-blog-hop.html
Inge von Roos:
ingetraud.wordpress.com
Nancy Smith:
wirednan.blogspot.ca
Marianne Baxter:
http://www.simplyseablimejewelry.blogspot.com/
Leah Tees:
mybeadylittleeyes.blogspot.ca
Andrea Trank:
www.heavenlanecreations.com
Miranda Ackerley:
http://blog.mirandack.com/
Cheri Mitchell-Reed:
http://creativedesignsbycheri.blogspot.com/
Susan Kennedy:
Michele Dotson:
http://star-jewels.blogspot.com/
Deanna Cox:
www.deannaaki.WordPress.com
Shelley Graham Turner:
www.shelleygrahamturner.blogspot.com
Ingrid McCue:
www.wrappedinsilver.com
Lennis Carrier:
http://windbent.wordpress.com
Ginger Davis Allman:
http://thebluebottletree.com/
Mary Anne Flesch:
www.handcraftedserenity.blogspot.com
Nicole Valentine Rimmer:
www.nvalentine.blogspot.com
Stephanie Weiss:
uniquelymebwd.blogspot.com/
Silvia Sernicola:
http://pipa-the-latest.blogspot.it/
Karla Morgan:
www.TexasPepperJams.blogspot.com
Kay Thomerson:
http://KayzKreationz.blogspot.com
Paula Hisel:
http://simplybeadiful.weebly.com/simply-stated.html
Carol Dillman:
http://dillmansdallies.blogspot.com/
Spun Sugar Beadworks:
Spunsugarbeadworks.blogspot.com
Tara Plote:
http://newbiebeader.blogspot.com/
Rachel Baron:
http://rbarondesigns.blogspot.com/
Laurie Keefe:
http://treeofliferootedinmysoul.blogspot.com/
Kashmira Patel:
http://sadafulee.blogspot.com
Gina Hockett:
http://www.freestyleelements.blogspot.com
Shellie Grindy:
http://www.creativeeclectica.com/
Shai Williams:
http://shaihasramblings.blogspot.com/
Dyanne Cantrell:
http://deelitefuljewelrycreations.blogspot.com
Mimi Gardner:
www.OtherCuriosities.blogspot.com
Jessica McMullen:
http://pheonixgatedesigns.blogspot.com/
Jennifer LaVite:
www.drygulchbeadsandjewelry.blogspot.com
Laura Medeiros:
http://zoeowyn.blogspot.com/
Alenka Obid:
www.pepita-handmade.blogspot.com
Elsie Fonseca:
http://www.ladelizchica.blogspot.com/
Cheryl Dunham:
www.renaissance-jewelry.blogspot.com
Sandra McGriff:
http://skyescreativechaos.blogspot.ca
<-You are here
Tania Spivey:
http://moobiegrace.blogspot.com/
Mowse Doyle:
http://mowsemadethis.blogspot.com
Facebook:
Beccy Peterson: Beccy's Baubles
Mischelle Fanucchi:
www.facebook.com/micheladasmusings
Marde Lowe: FanciMar Designs
For her very first bloghop it was incredibly well organized, but seemed to have been hit by a large number of people who can't make the hop date and will be posting late, or who didn't get their earrings mailed out to their partners on time. Some of these are honest mistakes or timing issues, but many seem to be people who didn't have the time to participate but signed up anyhow.
Due to some people being overly emotional and down right rude, I don't believe I'll be participating again. No, no one was rude to me, but I did receive complaints from others about their own experiences. I believe Jessica quickly became over whelmed with the turn out, and while she organized it extremely well, when it came to personally handling people, she often seemed to jump to an 'offensive defense'... sort of an ' attack them before they attack her'. She was stressed and upset that she laid out rules that people seemed to not follow or read, so I understand her getting upset, but I do think she could've handled some of it better. I understand how she feels, however, when you're running, or even participating in something like this, you don;t want to alienate the very people who read your blog, or fave your shop and items. It's a hard balance for some to strike 'online', being firm while being polite, but it just takes some practice on what words to avoid since they don;t translate well in type.
Overall, I think she did a good job and hope she decides to try hosting again... but with a smaller, more easily contained participant list, and a bit more practice on people skills ;)