Alright.. so I'm terrible at time limit challenges >.<
This is my OWN challenge and yet here I am, the afternoon/evening the day before reveal.. writing my post...
... and I have ONE piece about half done.. and another one kinda started >.<
so, after I write the bones of this post, I'm going to dig out my sketches and see if any of them are workable in short order... then toss them aside, grab the tools and pretend I have a clue what I'm doing >.<
... so.. pretty much the same as last time.
* Jumping ahead a couple hours **
Whoohoo! I got some stuff done! And a couple pieces of it I even like.. and one I friggin LOVE :D
And then I had a minor heart attack and cursed out my computer, tore apart my parts drawers, and ransacked the old computer in the bedroom... because as I was about to upload my photos and finish this post... my optic mouse DIED >.< SO glad I have extra...mice... around. So I'm stuck using the clunky old thing that came with the computer *sigh* I'll have to cross my fingers for nice weather to walk up to Staples after work tomorrow and get a new ergonomic optic mouse.
But I digress... back to the task at hand.
So, to refresh your memories... THIS is what we all had to work with.
( *note - I can't find where I saved my photos of this stuff, so I snitched Kristi's photo from her blog ;) lol)
The rules were that we had to use SOME of an item out of EACH baggie...
Two different cordings were in one baggie, and while I really wanted to use the brown and gold, my plans failed me several times, so I went with the orange tent cord. For this, my original idea was earrings...but for some reason, when I started to thread the wire through the cord, I ended up with an ugly bracelet instead. Not happy with it. I had thought to wrap a beaded strand or some wire around the outside too... or use that big wooden round ball on the end... but nothing wanted to work. In the end I gave up, slapped some orange wooden beads on the ends and pretended it was finished >.<
the feathers & Brass piece were in one baggie. I had plans for the brass but time failed me... so I went with the feathers... and after much frustration... made these. simple, three feathers, bound at the top and slipped inside a carved bone bead. The light is misleading... the feathers are NOT green... honest >.<
On to the stuff I LIKE how it turned out :)
The die and the buttons were up next. I did have plans for the die... my skills failed me, however >.< No worries. I had plans for the buttons , too.
Buttons came out and I decided to go with the white pair. I grabbed my new nylon tipped pliers and made some lovely little spirals :) and tada! earrings :) I made the hooks too... hammered them... definitely need some work on my hammered earwires yet, but the over all design came out nice :D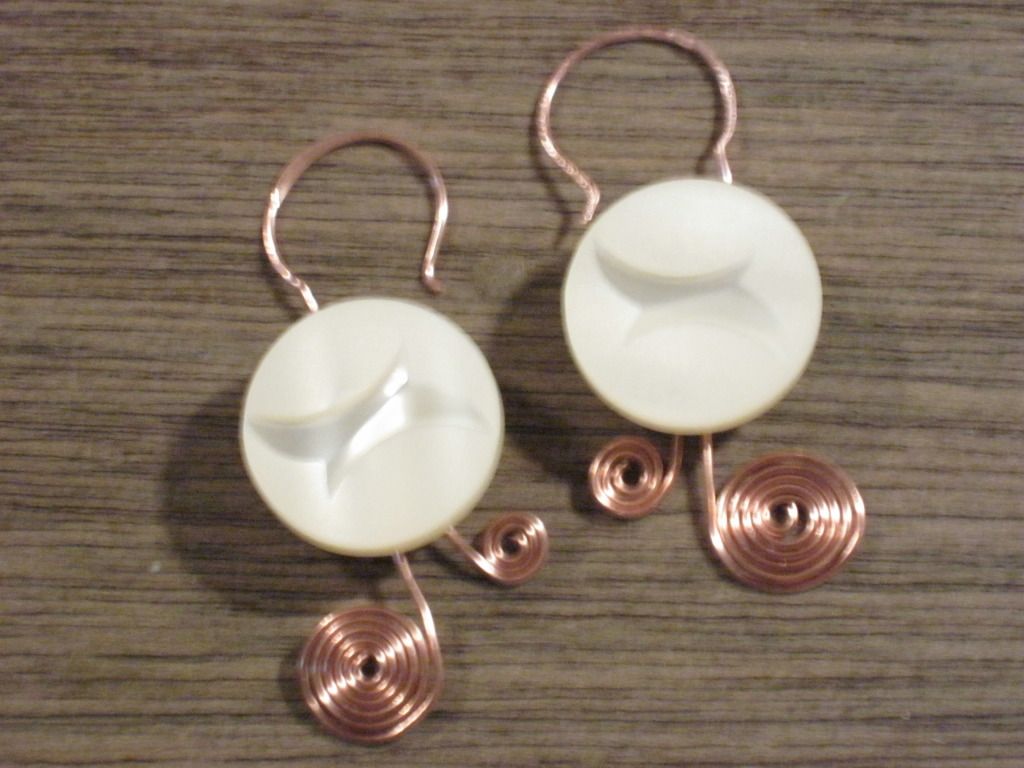 And my absolute FAVORITE piece... well.. it's not a completed piece of jewelry, but it's a completed jewelry component :) and it uses something from the last bag.. the wooden bits. A pendant...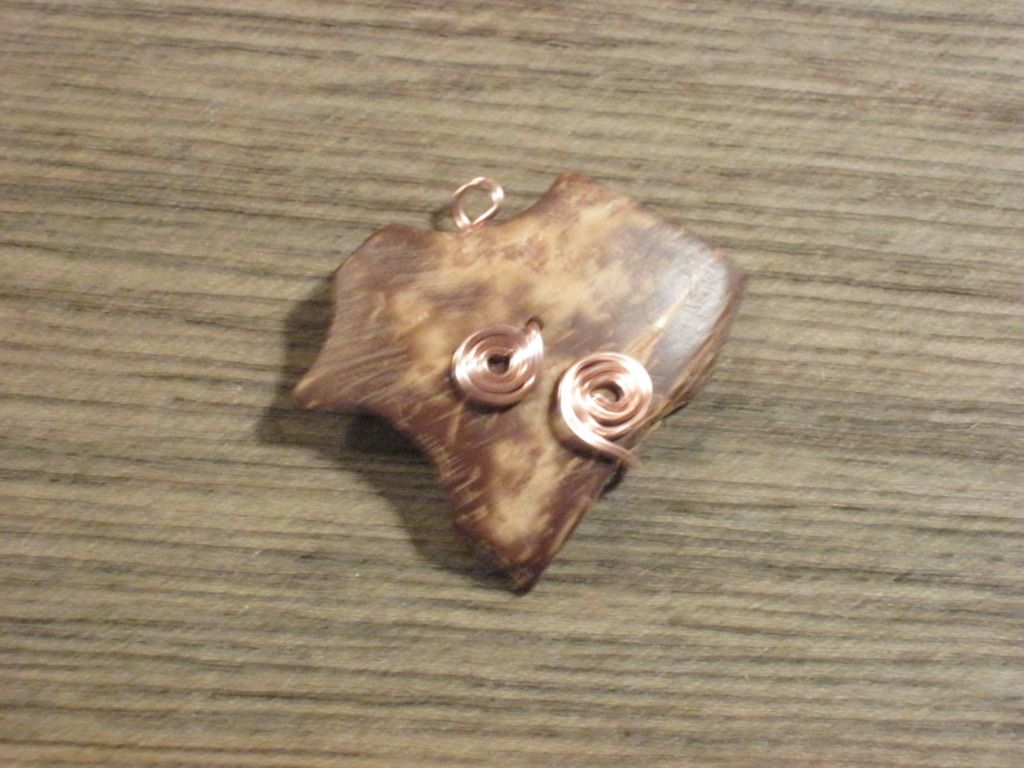 This one was cute how it turned out...I had it turned the other way and was trying different stones against the 'inside' of the scoop... then I dropped it.. and when I picked it up happened to notice that it looked like a leaf from the other side :)
So there's my contributions to the challenge. Still have lots of stuff I didn't use, but not energy.. or time... to use them. I managed to do slightly more then the minimum needed to complete the challenge and that'll do >.<
Hopefully the rest of the challenge crew did better then me >.< lol Make sure to stop off at their blogs and see !
Oh, and for fun, I'll giveaway the button earrings and the leaf pendant to two lucky commenters :) Just say which one you'd like and I'll eventually get around to choosing winners. Oh, and I'll replace the ear wires with 'real' ones before I send them to you ;) lol