So... did any of you REALLY expect me to get this posted earlier than this? And are any of you REALLY surprised that I haven't shared those photos yet, or that pretty package tutorial, or those blog posts I mentioned ...?
Didn't think so. by now most of you know I'm easily distracted...by laziness. ;)
And naps... naps are good. I have a very comfy couch that inspires naps...you sit on it, snuggle up intending to read or watch a movie or work on some beading... and then you just feel so comfy that you just have to close your eyes for a few minutes...
... then three or four hours later you open them again and wonder what the hell happened ;) lol
And rainy or dreary weather doesn't help avoid that 'need a nap' feeling.
Anyhow, all plans aside, I WILL do those things... just not today. Today I have winners to announce and goodies to show :)
First off, the third 'Pay It Forward' spot goes to Micheladas. :) I'll be sending you a note off soon to find out a few things and get your address from you. Carolyn , I sent you a note about a week ago and haven't heard back from you. Please check your email and if you don't have anything from me, email me at skye_sands@hotmail.com so I'll have your email :)
Next, the earring giveaway.
First off, thanks to everyone for taking part :) I loved reading your favorite Autumn things :) I love the leaves.... the way they change colours, the smell of them, the crunch of them under your feet as you walk... everything. Autumn leaves are the best :D I also love designing and carving my jack-o' lantern, and getting all slimey when scooping out my pumpkin seeds to roast them :) It's gross, but so much fun! I'm not fond of the smell of my hands after scooping out pumpkin guts though >.< lol
So, do you want to know how I chose the winners this time? lol No I didn't let my cat choose this time ;) I let the beads choose !
I had fifteen people leave entries... so I assigned each name a number, and then took fifteen brown glass star beads ( because that was the closest container lol ) , sat my roll of packing tape on the floor a foot or so away, then tossed the beads towards the roll. The number of beads that landed inside the roll was the winner. I did this twice for the first place ( 7 stars!), then the second place ( 2 stars >.< lol.).. put the beads away.... then got them back out and tossed them again for an extra winner ( 11 stars! whohoo!).
Kimberly gets first choice of which pair she wants.
Originally, the other pair was to go to Jami... however, if she likes the same one Kimberly chooses, I'll make her a similar pair, and Gina will get the left over. Other wise, I'll just surprise Gina with a pair ;)
Are you drumming your fingers in anticipation of what's in the pot for this months FF?
I could make you wait longer, you know ;)
I had thought to make a set of Halloween themed jewelry for the giveaway... but I got hit by the blahs and didn't get them beyond the design and prep stages. And then I turned around and knocked over a stack of bead packages and realized... I should share. If I shared some of these, then I wouldn't have to put them away ;)
So another bead bundle it is :)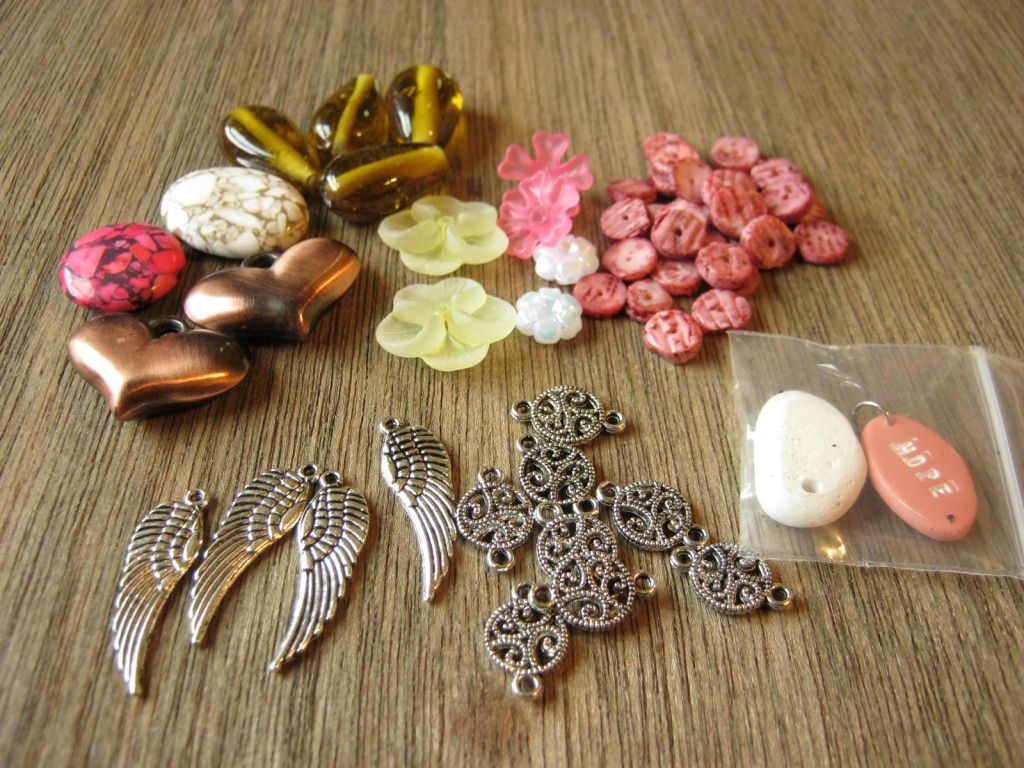 October Goodies
I decided to share some of the goodies Lori Anderson sent me from our beadswap way back when - I think those are shell beads, and two charms - one plain white, and the other pink that says 'hope'.
There's some of the lovely lucite flowers I just received from PineRidge Treasures :) A couple of the magnasite beads I got from the CBC Destash Day event; Four glass amber coloured tear drop beads, and a selection of wings, connectors and two large copper hearts, all from Yours, Mine & Ours.
PLUS, in addition to what's in the photo, there'll be a bundle of faux suede cording and a baggie or two of seed beads mixes, and I think maybe some other fibers to play with. I may decide to add a picture of that stuff... or I might not ;)
I'd debated on doing a color coordinated bundle but... nah. Maybe next time ;) When I start putting different coloured beads together ...I get the urge to play with them.. and then get distracted >.< lol
and I think I'll leave you with one of my pictures from PumpkinFest...
... of what else? A pumpkin :D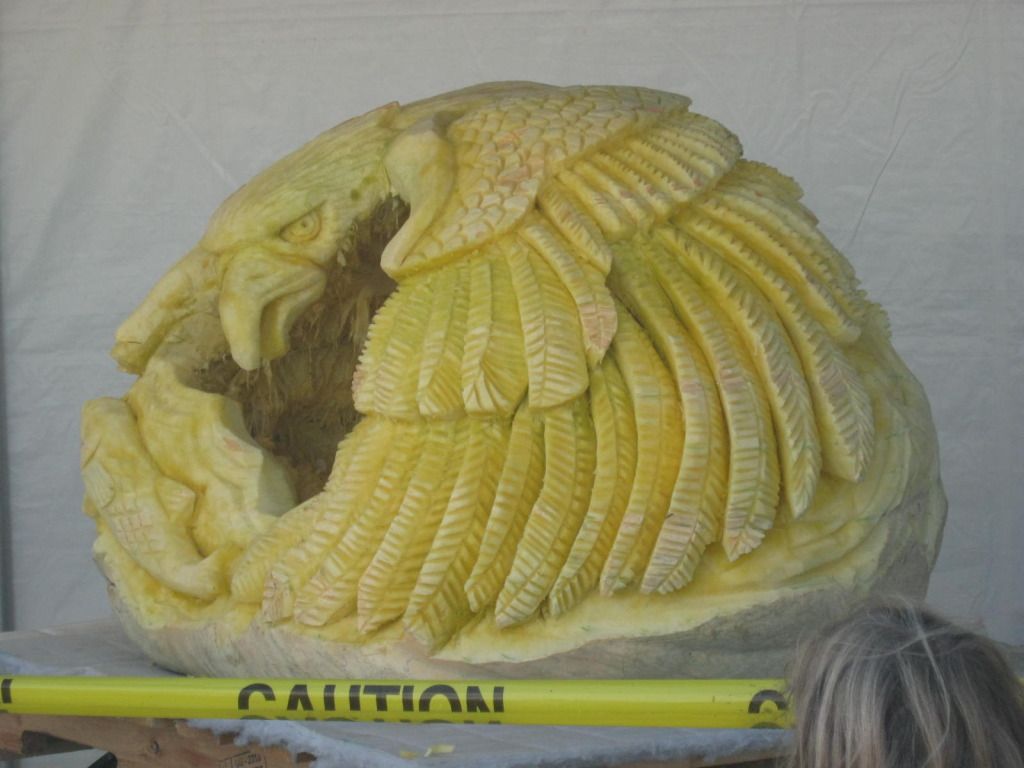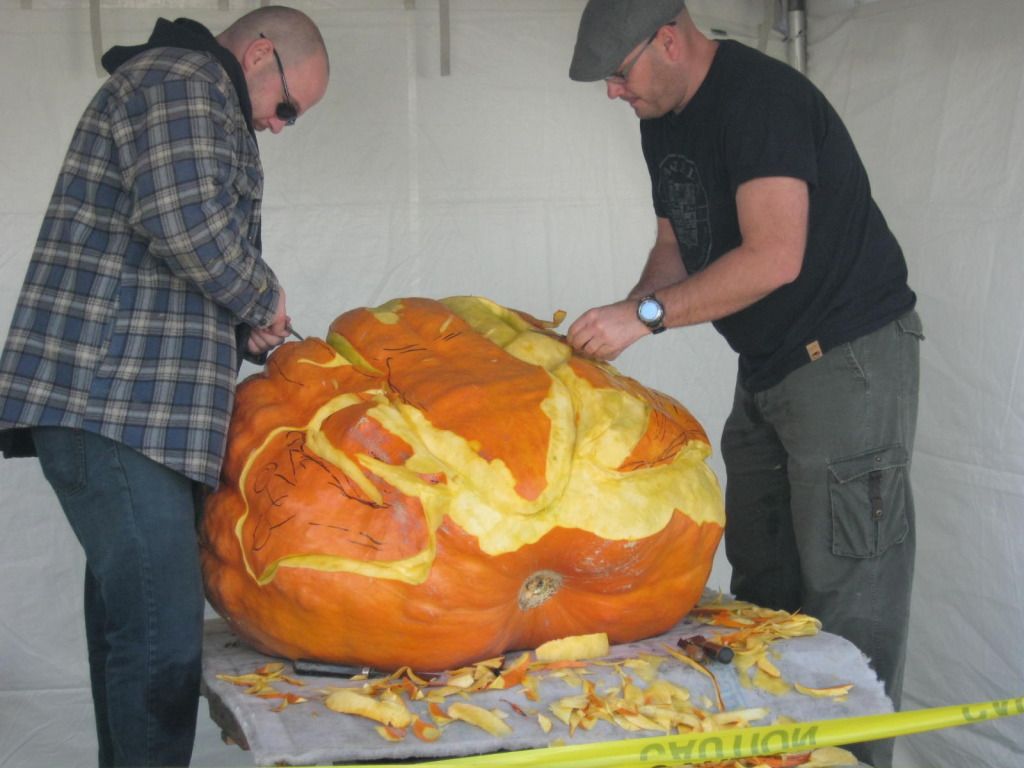 Isn't that an amazing carving job? These two guys carve two huge pumpkins every year... They'd just started on the second one when I took this picture, so I didn't get to find out what it was... until the other day at work. It was a frog... and I NEED to get my coworker to send me a photo of it for my mom! she LOVES frogs :D For those curious,The eagle pumpkin most likely weighed around the two to three hundred pound mark! A little kid could climb inside there! the 'soon-to-be-frog pumpkin was a bit smaller.. well... flatter.. lol