Sorry >.< Between the cleaning/ reorganizing/ utter chaos of my house, combined with my getting another nasty cold... haven't been feeling the blogging urge lately... think I'd have been to inspired to whine if I had lol
I DID manage to get some creating done before the bug took over and turned my nose into a faucet again. Three button bracelets, a pair of earrings, and a fours bracelet that came to a stop a third of the way due to the germ influx lol
The one bracelet you can see in the Non-Blogger/Blogger challenge album at the Bead Soup Cafe. It's the purple and green button bracelet done for the purple pansy inspiration photo :)
The second bracelet you can't see yet because it's for the new challenge there and I haven't uploaded it yet... plus I'm debating adding some thing to the end or trying a different style clasp.
The third bracelet I'll show you in a minute, because you guys can try and win it ;)
And the earrings are MINE :)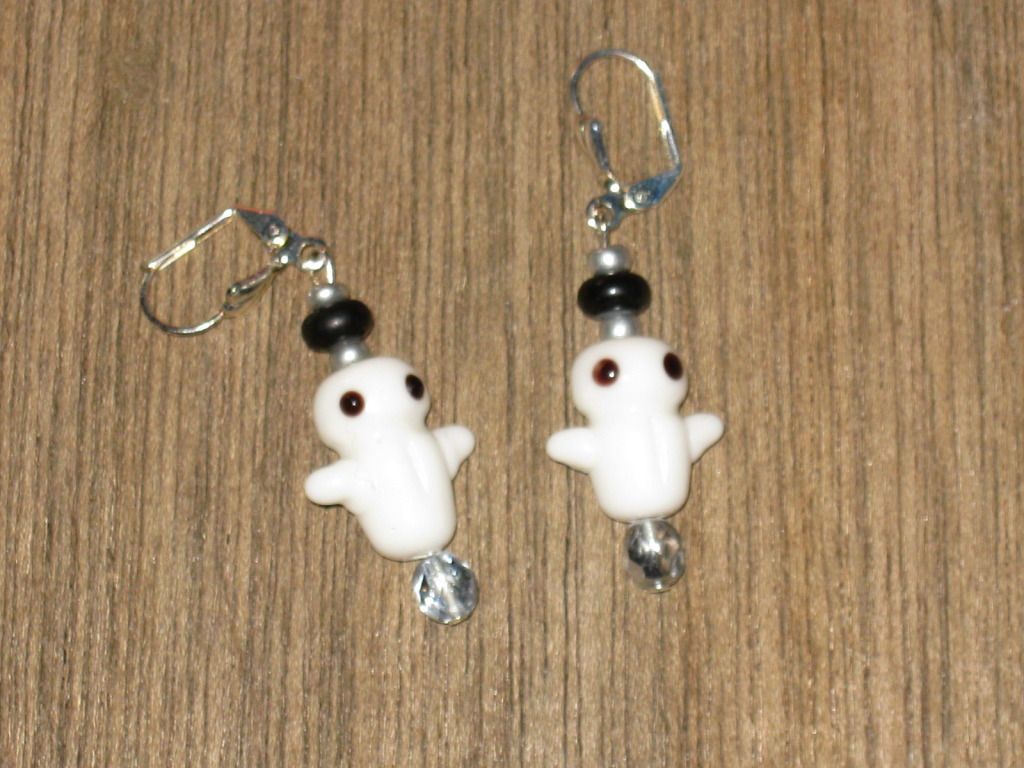 Aren't they adorable? I made them from one of the kits I bought from Lisa Lodge of Pine Ridge Treasures :) I already have a bunch of the other beads from this set set out in designs ready to go as soon as I'm relatively germ free again :)
Before I post that bracelet though, I mentioned back on the F.F. #10 post that I'd be adding more to that bundle. I thought maybe you'd like to see the full prize pack you're trying for? lol Might be nice, right?
So there are the beads and findings from the original photo in little baggies... plus two baggies of seed bead mixes, a bundle of pink faux suede, and two bundles of 'autumn inspired' funky yarns :)
No, that orange and blue mix is not some the accidental 'floor' mix I showed in the one group when my seed beads case spilled everywhere ... some of the same colours though. I'd mixed this up a couple days before that happened >.< lol
Like the yarns? Want some to play with too? How about some spider web lacy-stuff, too?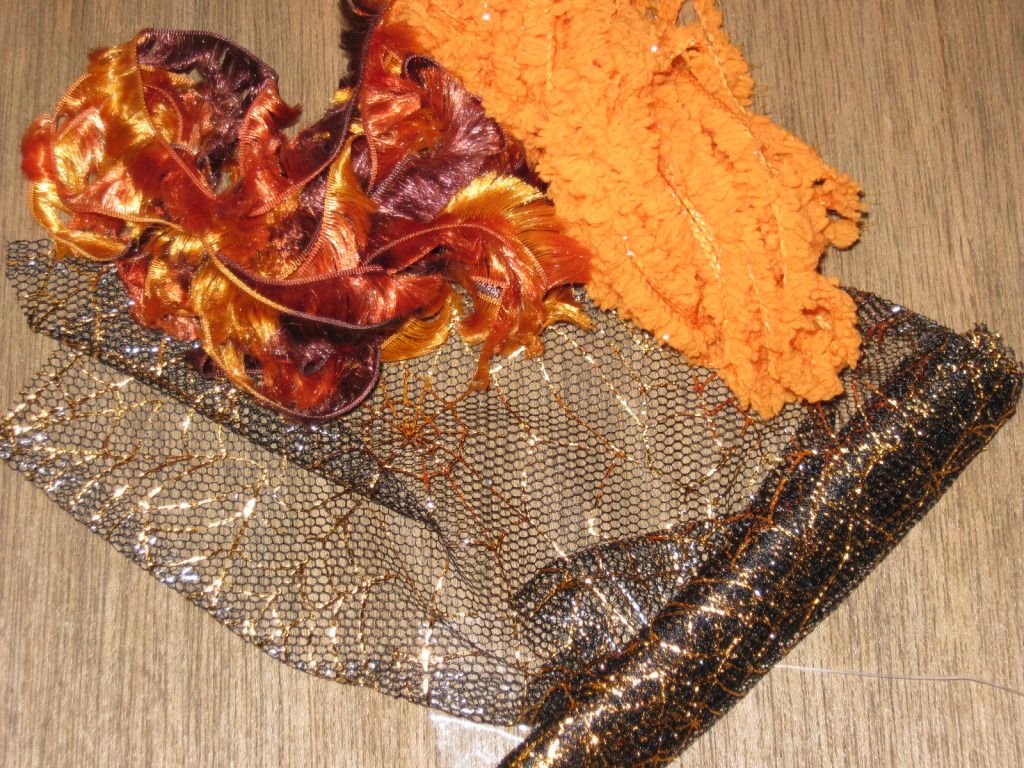 How about a Halloween button bracelet?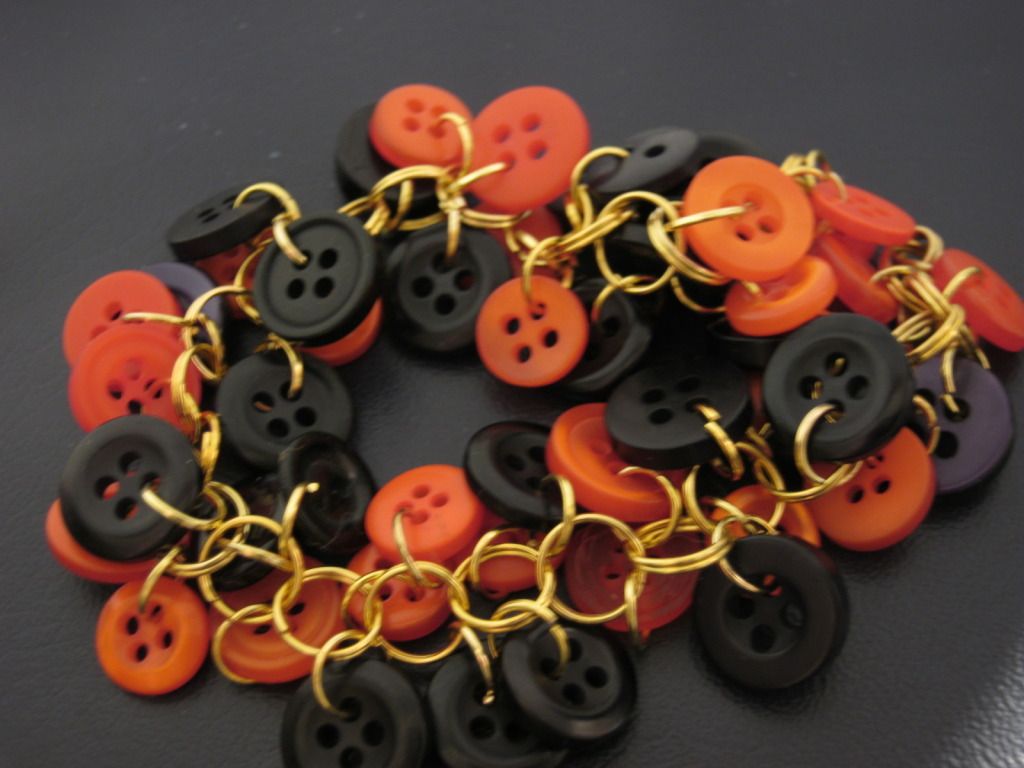 Leave a comment telling me about your favorite Halloween 'tradition' - whether it's dressing up, or making treats, throwing a party... or going on a ghosthunt ... whatever it is, tell me ( at least ) that one thing you HAVE to do every Halloween for the holiday to be complete :) Add in which item you'd like, the fiber or the bracelet.. or both ;).
My traditions for this time of year - I do my best to book it off. Usually the 30th straight to the 2nd if I can. If not, then at least the 31st & the 1st :) Halloween morning I carve my jacko'lantern and wash up the seeds. Just after lunch I start roasting them while I get my treats together for the kiddies then scramble to get my costume together if I didn't do that the day before ;) If my costume is mask-less and easy to move in, I'll wear it most of the day, even doing any shopping in it, simply to see the smiles :)
I spend most of the evening sitting on my porch handing out candy for both my place and my landlords, while they take the kids around trick or treating.. then one of them will either join me or take over for me :) We keep track of how many kids we get each year.. last year the count was the lowest ever, I think, but I think it was kinda on the cool side...I was bundled up in layers and had swapped out my light weight shiny cape for my nice heavy brown Jedi robe... much warmer :) Hoping for a better turnout this year.
After I head inside, I usually take my jacko'lantern with me and he continues to flicker and glow in my living room, while I either watch spooky movies or shows, or do the odd tarot or psychic reading online.
And since, I'm always looking for inspiration, how about for those brave enough to tell me about their spookiest experience , or favorite Halloween experience, I'll do an extra prize just for one of them...?

P

lus anything I write ( or draw, or make ) using those stories as inspiration, I'll share here for everyone to read ;) That winner can tell me whether they'd like an Autumn/Halloween fiber 'grabbag' ( I have several different varieties of the spiderweb stuff ;) ), or some Autumn/Halloween inspired jewelry, or just a surprise bead bund

le :)

.
To break the ice , I'll tell you about one of MY spooky happening. Remember up there a bit I mentioned doing the odd tarot or psychic reading? That started a few years ago totally by accident... I was in a chat with a few ghost hunters and suddenly started describing a place... I didn't know 'what' I was describing at the time, - a large rock, I mean a BIG rock.. emphasis on BIG, with something gold on it or maybe under it?.. a Tree.... black branches or roots... gold glinting between them... I didn't know what I was describing, but the guy I was speaking to DID, and so did some of the others. One woman ( the same one who runs Yours, Mine & Ours ;) ) went out the next day to take photos of the place I'd described. Seeing the photos ... wow. It was an abandoned building that had been severely damaged in a ...think it was one of the big hurricanes that ripped through the southern states several years ago. Anyhow, in the photos there was a huge fake boulder playground piece that had a slide on one side...that had at one time been painted a gold color, and the paint had mostly flaked off showing just a bit. The black branches belonged to a tree, and through the branches you could see the remains of the damaged yellow/gold paint on the building behind it. lol I've done remote viewing before with fairly good results at times, but this, while having the same effects, was a different sensation. At times I was very aware of a presence with me 'showing' or 'telling' me ( it was neither in words or images, but there's no other way to describe it really ). After that, when ever I get hit by that same feeling I had that night, I do the odd reading. Usually saves me a restless night or headache... shouldn't hold that stuff in if it wants out ;) lol
So, If you haven't entered October's Freebie Friday drawing for that bundle of goodies, go back to the FF#10 blog post and enter with the Rafflecopter widget :) For those who've already entered... give it a check to make sure you've got all the entries in you can do ;)
If you want to try to win that little fiber bundle or the bracelet, leave a comment telling me which one, and your fave Halloween Tradition.
And if you want to try for the surprise prize while giving me fodder for my stories and/or other artistic

endeavors

... tell me your own spooky happening or favorite Halloween 'event' :) Keep in mind, by posting your stories here,( or sending them to me via email at skye_sands@hotmail.com, or mattiashogan@gmail.com if you'd rather not have anyone know the tale is yours ;) ), you're granting me permission to use them whether you win or not. I promise not to use them directly or mention any names or identifying items or places ;) For example, if you send me a funny story about a trip through a 'haunted house', I'd have my own characters play the key rolls and change the town

/

city name, etc... unless you WANT to be named in it ;)
Anyhow, since I've finally blogged, I'm going to end this and go see about getting some soup into me.
I'll pick winners for these ... eh, whenever I feel like it ;) Depending on how many entries I get for them, how quickly, maybe I'll do it on Monday.... or maybe sooner ;)