I WAS going to chose a winner of the destash today, but after considering I decided to give everyone a couple more days to find the last post and get that last entry in, so I shall choose the winner on Tuesday the 31st instead. after all, I did say it was 'a month long' destash, so... we'll let it go the full month ;)
As for my challenges this week, for once I had them done BEFORE the last minute :D In was going to show you my art challenge project as well, but went and deleted the pictures from my camera... so, I shall take new ones and post them on Tuesday since the art challenge is by the month rather then week ;)
Plus, not only did I get my three pieces of jewelry done, one of those pieces is for the ABS monthly challenge :) Whoohoo! Yay me...finally managed to complete one! lol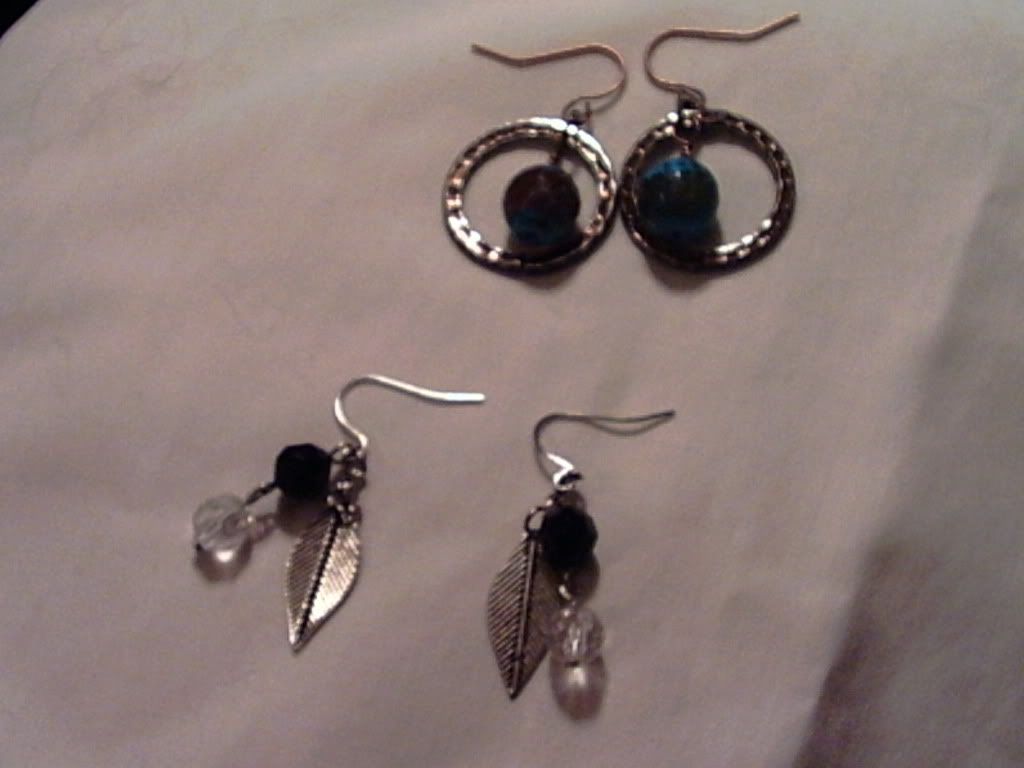 So here are some earrings I made this week.
The top pair is 10mm faceted crackled Agate. The color in the shot sucks but they're a really pretty blue and brown mix with the rings being antiqued copper ( in appearance, anyhow...I can't say for sure what they're made of since they were recycled from a chain belt ;) ). I love these..I wore them today :)
The others are just antiqued silver leaves hung from a small section of chain, with black and crystal faceted rounds. Can't say for sure what kind they are since they're recycled from other pieces.
And here is my bracelet for the "January ABS challenge. It's just some gold wire with loops formed between chunks of green and peach colored turquoise, with a antiqued copper clasp. The bird charm is from Starry Road Studio :) It actually wears fairly well, but I don't know if I'll keep it together. I'll mostly take it apart and reuse the beads and charm in other projects. This wasn't the piece I had planned for the challenge... it wasn't even the second piece I planned out for it... both ideas kinda fell through when my bits and pieces either refused to be found among my stash ( I didn't get to the stringing materials in my cleaning ;) ), and when the second idea refused to work in RL as well as it did on paper >.< lol If I were to do this again, I'd work on making my curls between beads more uniform and perhaps forgo the charm...
In addition to these, I have a couple magnetic pins and another set of earrings in the works, but I need to tear through my under desk storage in search of my other glue first... the stuff I have just takes too long to dry for what I need with these. Plus there's my stuffed cat... the second one >.< I DID finish putting the one I showed you together... and while doing so, made a small change to it... a small change that messed it up and made him look .. rather .. 'special' ...O.o lol I have named him 'crooked' and he sits on top of my computer to remind me of what NOT to do with the second one lol I simplified the design and have the second cat about a third of the way done. His front is completely stitched and decorated and not I just have to make his tail, sew his stripes on his back then put him together. And this time, with Mr. Crooked watching over me to remind me, I will NOT alter my plans while putting him together lol
I DID manage to get out to the country and visit my parents today. I went for a walk around the trails... at first with the dogs, however they quickly abandoned me to trudge along on my own. For all of you southerners, I thought I'd share some wintery photos with you :)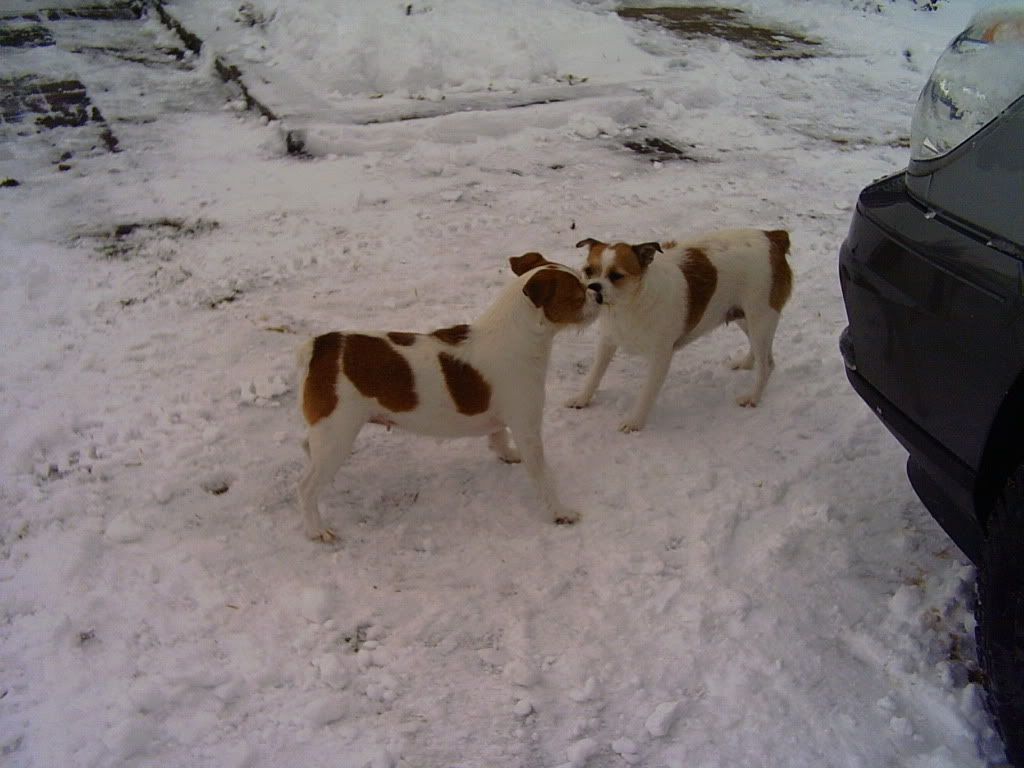 Here are the girls who were SUPPOSED to be going for a walk WITH me...
And here are their tracks vanishing ahead of me and veering off the path into the trees... >.< ( the photo is right side up in the album, I swear )
A pile of dead fall that had been gathered together then forgotten about... the path along side this wasn't too bad for walking on... only a few inches deep. -->
<--... the path in THIS area though was over a foot deep and managed to get right inside my boots >.<
( again, the picture is upright in the album... not sure why it insists on being sideways here when it's not elsewhere >.< )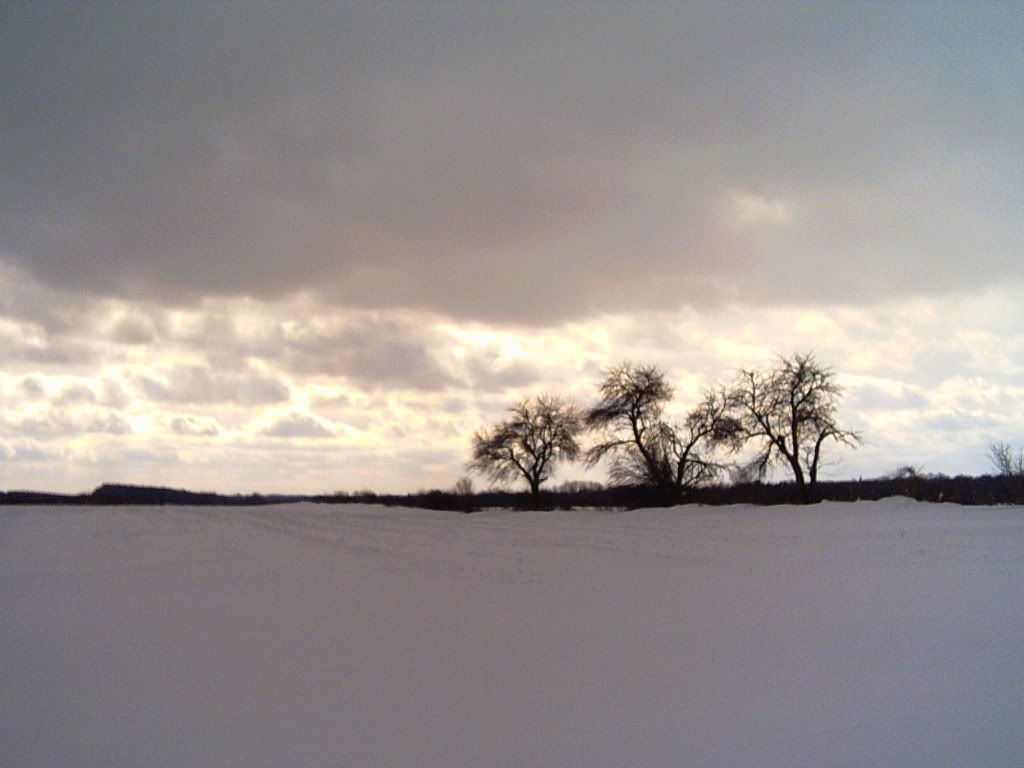 And one more ... for which I waded through knee deeps snow and skeletal shrubs to take. Totally worth it :)
( I did take a couple more and they're in the album if you care to go see them. Just click on the slide show link on the side bar then choose the photography album )
Don't forget to leave a comment on Friday's post for a last entry into the destash, and I'll post the winner either Tuesday night or Wednsday morning :)
~ Skye