Once again it's Sunday...
and no, I'm not watching the Super Bowl...I haven't watched a football game since...the Green Bay Packers and... crap.. they were in blue and white and silver.. so Either Miami dolphins or Dallas cowboys.. think it was Miami ... anyhow, haven't watched since those two were in the Super Bowl together. That must have been... late eighties or early nineties...? Somewhere around there, anyhow. I had fun... not actually WATCHING the game *pfft* yeah right... ladies you can have WAY more fun with the Super Bowl than just 'watching' it.
...You just join the guys then keep making comments about 'tight pants' and 'cute buns' as often as possible. You'd be surprised at how many of those big tough guys you can make blush around their beer and pizza ;)
... I think the Packers won that time...I'm not sure though, I wasn't actually 'watching' the game that much ;)
Anyhow, since there's no guys around for me to embarrass, there's no need for me to 'watch' the game :)
You don't want to hear about football, and big beefy guys in tight shiny pants, running around and slamming into one another, though, do you? Nah... didn't think so ;) You're just here to see if I made my weekly challenge.
Of course, it would've been a hell of a lot MORE plus if I hadn't kept running into idea blocks >.<
I was STILL working on this one gift... aiming for 'steampunk'... Other likes on the list for this chick were 'monarch butterflies' and' robots' and 'monsters' . Originally, she was going to get a plushie too.. but after the whole 'Mr. Crooked' incident, I lost the desire to follow through with that plan. I came up with the robot pins idea instead... steampunky robot magnetic pins... which failed miserably >.< I then had a really adorable idea for steampunky robot EARRINGS! I could see them in my mind perfectly and sketched them out, planning on using these little filigree squares I had for the bodies... only to discover I don't HAVE any squares..I have ONE square.. and several diamond shapes... and no, they can't be turned on their sides to make squares >.< *sigh* Next up, I decided to go with the butterfly idea. I have these gorgeous tin filigree butterflies AND wooden ones as well... but I wanted to spray paint them and the weather has not been cooperative to painting >.< Another idea shot down *grr* So, back to the earring idea... I sorted through several tubs of beads and picked out a bunch along with other components, then played with them, arranging them together and choosing 'sets'. so far, so good :) Then failure struck again >.< I'd get one earring partially together then stop, suddenly not liking it. So I'd toss it aside and start on another... only to do the same. I have a pile of half formed earrings, loose beads and components, and tools, taking up half my computer section of my desk here >.<
Between yesterday and today however, I've finally succeeded :) I have four pairs of earrings done.
.... not sure whether they're steampunky or not though >.< I have a problem doing the Victorian aspect of Steampunk.. since Gothic is also Victorian in root and ..I tend to lean towards Goth... >.<
So.. here we go. Maybe you guys can tell me if you think they're steampunky at all ;) ( All the photos are the right way up in the album I linked to... if they're on their sides like they appear in the preview ..I seriously have no clue WHY...)
First up, we have a pair of chain dangles. This pair is two strands of chain, both different styles and metals, wrapped around, both a brass bead and a smokey crystal rondelle.
Next up we have another version of the one above, but with three strands of chain in varying lengths, but all the same style and color. I added some color to this pair with purple-toned textured 'silver' bead, and a purple satin finish glass bead.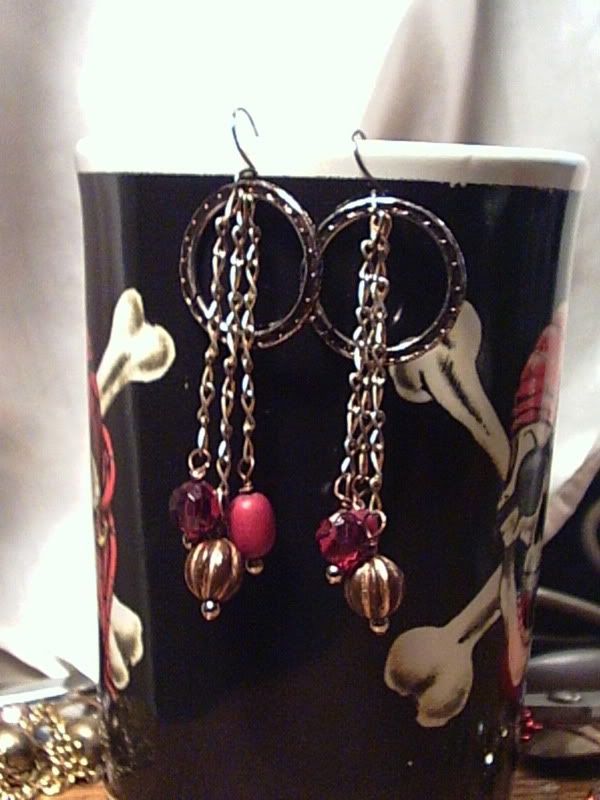 Next we have, what I think, are my favorites out of this batch. Three strands of chain in varying lengths hung with a beaten 'copper' ring. The dangles are a wooden red beads, a red glass faceted round bead, and a brown and 'gold' acrylic bead. ( the set I sent with the destash also had these in it..I came across a second set at the thrift shop that had been opened and partially used... but it still had all the ones I liked in it ;) )Also the only pair not made with lever backs, although that has nothing to do with it ;)
And lastly, we have a pair of free form earrings that I kinda messed up on a bit and didn't even realize it until I took the picture >.< The brass beads have one hole facing one direction at one end, and on the other side at the other end... and I didn't realize I had the opposite holes paired up on the fronts >.< These are also using the smokey crystal, along with some funky little antique gold tone triangular spacers.
So, four pieces of jewelry completed this week... and a few dozen others scattered in various stages of completion over my desk.... which NEEDS to be cleaned off this week >.< I seriously can NOT start work on my painting .. or another jewelry project for that matter, until I clean this mess up enough to be able to find things >.< For the record, the reason most of these are lever back earrings is because the rest of my french ear wires are buried somewhere beneath the mess and I was unable to unearth them during my search >.<
So... personally, not so fussy on the first pair. Think it might be better if I swapped out the rondelle for something bigger... and added that third piece of chain.... The second pair I like better, but I think the chain is a bit big for the size beads I used ... maybe either drop a size smaller chain, go to two strands instead of three... or find bigger beads...
The third pair I love... the only think I'm not sure about it how I've got them on the ear wire... may change that.. The last pair...I haven't decided yet...I kinda like them... they're kinda funk and fun.. and the shortest of them all.... lol What do you all think?